St Denys Church
Evington, Leicester
Advent and Christmas Services at St. Denys
All welcome to join with us as we prepare for the birth of our Lord and Saviour, Jesus Christ
Sunday 3rd December, Advent Sunday Holy Communion, 10am
Sunday 10th December, Advent 2, Christingle Service for all the family, 3pm
Sunday 17th December, Advent 3, traditional annual Carol Service with organ, choir and congregational carols and readings, 6pm
Sunday 24th December, Advent 4 (Christmas Eve), Crib service, 4pm
Sunday 24th December, Advent 4 (Christmas Eve), 'Midnight' Holy Communion taking us into Christmas Day, beginning at 11.15pm
Monday 25th December, Christmas morning Holy Communion, 10am
Sunday 31st December, (New Year's Eve), Holy Communion, 10am
Please note, Holy Communion services take place every Sunday at 10am
Diabetes Awareness Coffee Morning
On Saturday 18th November 2023, 10am – 12noon in the parish centre attached to St. Denys Church, our Vicar, Reverend Anthony Lees-Smith will be hosting a coffee morning for all those wanting to share experiences or simply be with others who have, or know someone who has diabetes.
Remembrance Sunday
Sunday 12th November 2023
On Sunday 12th November, we will mark Remembrance Sunday. At 10.45am, at the War Memorial in Evington village, we will remember those who died in World Wars 1 and 2 and remember the dead of more recent conflicts too. Our act of remembrance will include 2 minutes silence. Following this, there will be a parade including the uniformed organisations, to St. Denys Church where the service will conclude.
Please note that, for those unable to join folk at the war memorial for whatever reason, an act of remembrance will also take place in St. Denys Church at 10.45am, where the names of local Evington soldiers who perished in the two world wars will be read out.
All are welcome to stay for refreshments in the parish centre attached to the church, at the conclusion of the service.
At 3pm, an All Age Holy Communion service will take place in the church/parish centre.
All Souls Service 2023
Remembering our dearly departed loved ones
On Sunday 5th November at 4pm, we hold our annual All Souls service in St. Denys Church. This is a quiet, reflective service with appropriate music and hymns where the names of our departed loved ones are read out. The opportunity to light candles in their memory will be available. At the conclusion of the service, refreshments will be available in the adjoining parish centre. All are welcome.
A 'New' Priest Amongst Us
Reverend Mark's Ordination!
On Saturday 1st July 2023 in St. Mary's Church, Melton Mowbray at 3pm, our Curate Reverend Mark will be ordained priest alongside several other deacons. This is a very special service marking the next chapter in his ministry amongst us. We at St. Denys offer our warmest congratulations and send our love to him. Several members of the congregation will be attending the service. Mark writes "… this has been a huge change in my life that has also had an impact on those around me and I am forever grateful for the kindness, patience, love and support that so many of you who know me have given, not least my family and especially Sarah, my wife. I am currently on pre ordination retreat at Launde Abbey, with many of those I have shared this part of the journey with. I would very much appreciate your thoughts and prayers for the ordination on Saturday and for my celebrating Holy Communion for the first time at St. Denys, Evington on Sunday at 11am. There is an open invitation to all who can make it. A bring and share lunch will be held after the service on Sunday!"
Angels for Evington
Evington's Faith and Friendship Tent was launched at the Jubilee Garden Party in 2022. It began as a St Denys Church project bringing people together from across Evington's different religious traditions to work with artists on creating an imaginative and inspiring space for building friendships across difference. The Tent has since been at the village fete and in City of Leicester College during Interfaith Week in November.
The Faith and Friendship group who come from Sikh, Hindu, Muslim, Baha'i as well as Christian backgrounds have continued to meet for creative workshops from card-making to marbling to poetry-writing to knitting. The knitting was such a hit that they have been working on knitting as many angels as possible to give away during April when a number of different religious festivals are being celebrated including Eid, Easter and Vaisakhi. Lots of people outside the group have got involved and have been knitting away too.
If you see a knitted angel (or a rabbit!) with a label somewhere in Evington village in April, please do give it a good home and spread the joy and love with which they have been made. To find out more about the group, contact St Denys Church office@stdenys.org.uk
Lent and Easter 2023
Following the conclusion of Christmas with the feast of Candlemas last Sunday, we move to remember Christ's earthly ministry, leading to the last Supper with his disciples on Maundy Thursday, and his death on Good Friday on the cross, before his glorious resurrection on Easter Day. Mark with us, this moving and deeply meaningful season. Each service takes place in church, unless otherwise stated:
Wednesday 22nd February (Ash Wednesday, the beginning of Lent), 6pm Holy Communion with 'ashing'
Sunday 19th March (Mothering Sunday) 10am, Holy Communion and 3pm, Cafe Church. Join the church family in saying thank you to all mothers, living and departed, and receive a gift of flowers or a plant to take home as a sign of your gratitude..
Sunday 2nd April (the beginning of Holy Week and Palm Sunday), 11am, Informal Holy Communion with the reading of the Passion story.
Monday 3rd and Tuesday 4th April, 6pm, quiet and reflective service of traditional Compline.
Wednesday 5th April, 6.30pm, A special service of Music and Readings for Holy Week and Easter with full choir and organ, to include movements from Handel's Messiah.
Thursday 6th April, 6pm, The Last Supper (a bring and share meal with Holy Communion) plus foot washing in the parish centre attached to the church, followed by stripping of the church.
Friday 7th April (Good Friday), 10-12 Children's Activity Morning, then at 2pm, The Last Hour – a special time to reflect, be still and pray within your hearts in front of the high altar stripped bare, marking Christ's death on the cross.
Sunday 9th April (Easter Day), at dawn (6.15am), a short service celebrating Christ's resurrection from the dead, outside beside a warm fire-pit with songs, readings and prayer.
Sunday 9th April (Easter Day), 10am, Holy Communion and 3pm, Cafe Church. Christ is Risen, Alleluia!
Interfaith Week
For some years now, the week following Remembrance Sunday has been designated Interfaith Week. It's a week to highlight cooperation and build new relationships across difference as well as to learn from the religious diversity that is part and parcel of modern life. In Evington we are truly blessed to live alongside neighbours of many different faiths. Remembrance is one of those times when we come together and with cadets, scouts and residents of all faiths and none, we remember those who went from our community and died in conflicts past.
Last weekend, our Faith and Friendship group met in the parish centre. This group of people originally came together from across the community to work with artists on the Faith and Friendship Tent that was launched earlier this year by the Bishop of Loughborough. They continue to meet to work on art and craft projects, making beautiful cards and bookmarks to sell for Christmas, laughing, sharing and breaking into song together. There are even plans afoot to prepare for a fashion show in 2023 using upcycled clothing!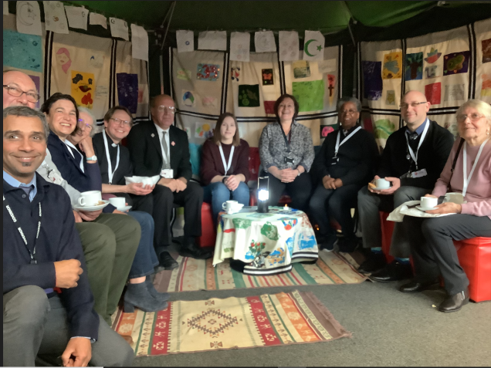 On Tuesday, Mark our curate and Sarah our youth and community worker went into City of Leicester College with the Faith and Friendship Tent. They took part in a "human library" where students got to speak to visitors of several different faiths. They answered questions as part of a panel and listened to students talk about their own religious traditions. It was an absolute delight and we look forward to working more with City of Leicester College in future.
On Friday, Anthony and Sarah went to meet the new headteacher at Krishna Avanti Primary School. St Denys have had a wonderful relationship with the Hindu school ever since it was founded 10 years ago and we have successfully worked on many projects together. We are really looking forward to sharing Christingle with the whole school in a couple of weeks time.
Many of us at St Denys have friends and neighbours who are from different religious traditions. With respect and understanding, these relationships can be hugely enriching. As Christians, we follow a Jesus who wasn't afraid to cross boundaries. Engaging with religious difference can deepen our own faith as we ask questions of ourselves and others. In a world that struggles to know how to live well with difference, we need ever more spaces for building faith and friendship.
Christmas Choir 2022!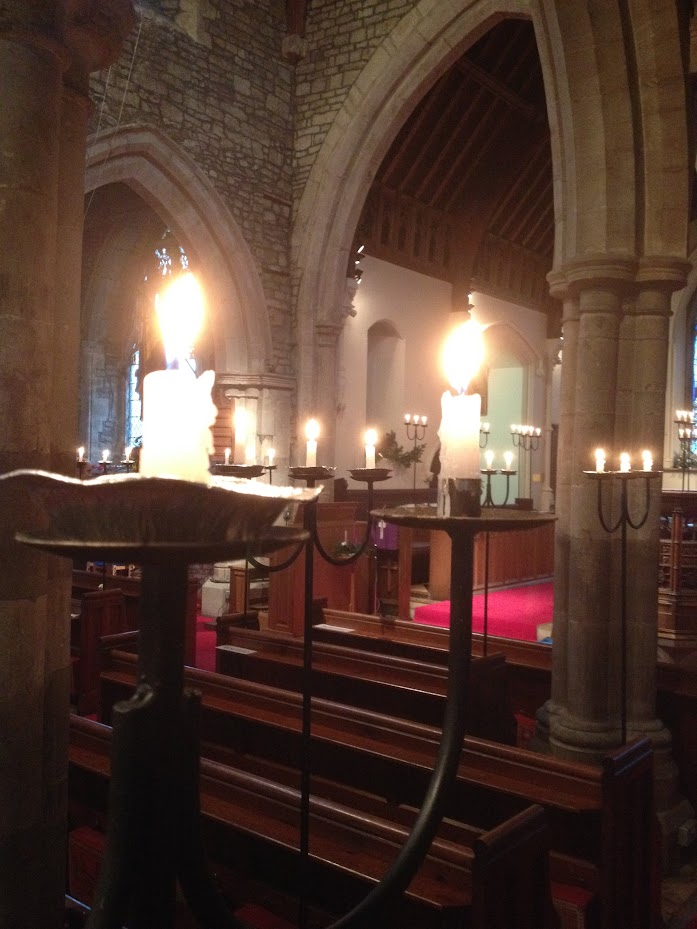 Do you enjoy singing? Can you read music or pick up a tune by ear? We are looking for keen singers with any level of experience to join us for our traditional Nine Lessons and Carols Service on Sunday 18th December. You don't have to be a member of St Denys already to join us. All are welcome!
Weekly rehearsals begin on Thursday 10th November at 8pm, and then on 17th and 24th November, 1st and 8th December all at 7.30pm. Final rehearsals are on Friday 16th December at 7.30pm and on Sunday 18th at 4pm before the service itself at 6pm. We will also be singing carols at the Stoughton Grange Christmas Market on Saturday 3rd December. For more information about joining, contact Wendy at wsls99@yahoo.co.uk.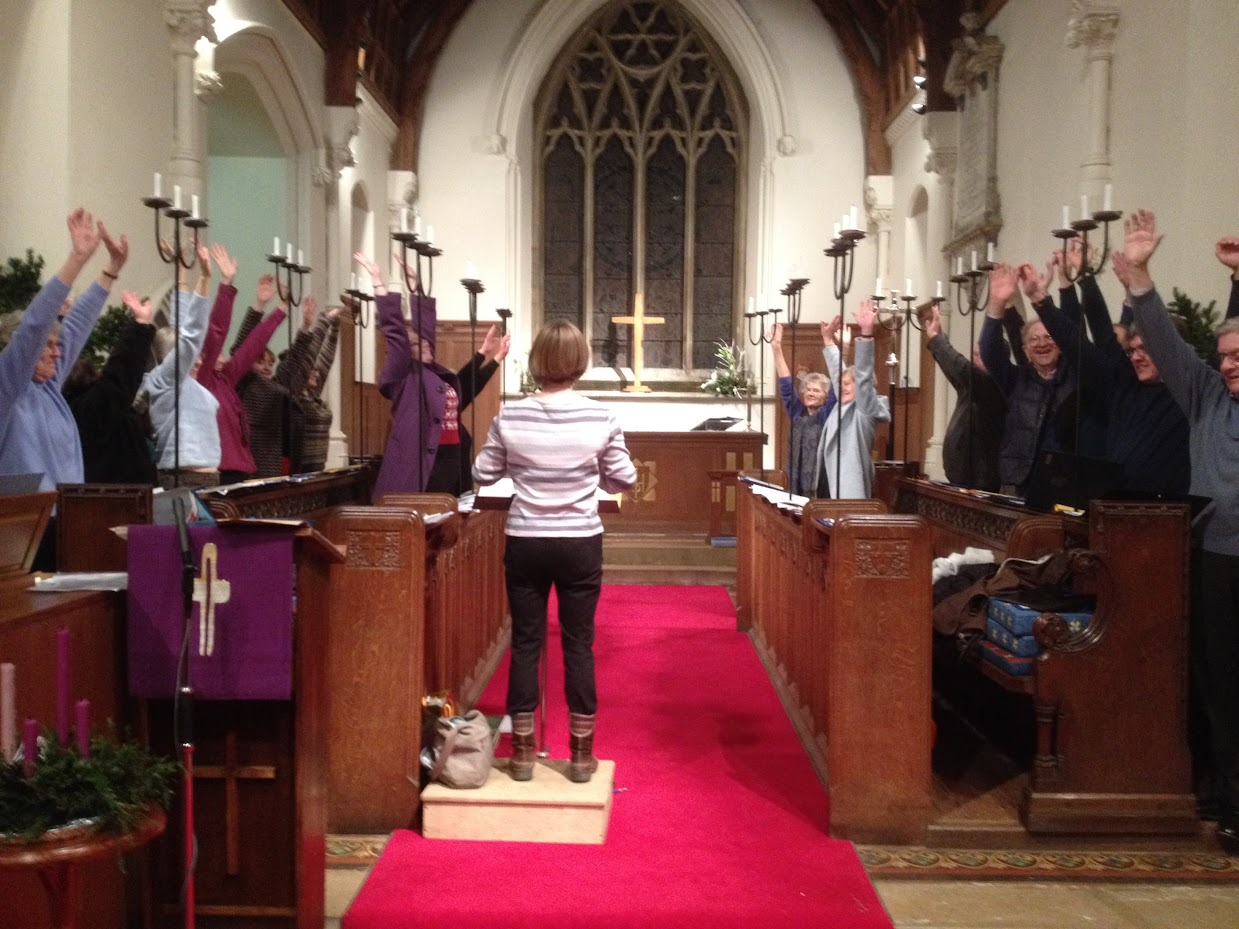 New website goes live!
St Denys Church Evington has an exciting new website www.stdenys.org.uk with everything you need to know about life at St Denys. You can find information about services, copies of the latest weekly bulletin, links to sermons, details about hiring the Parish Centre or how to arrange a christening or wedding.
We are very grateful to the talented David McBride who has designed the new website complete with the fabulous aerial footage of the church and its surroundings. Here is some more information about David and his services:
David runs Unbound Design, a local business with a Leicester-based team. Unbound Design offer fully-custom, Google friendly websites guaranteed to deliver for your company. Unlike other agencies, we don't rely on page builders and plugins: you'll get a custom coded site fit for the future and finely tailored for your brand. Our websites are SEO ready, guaranteed to rank on Google and you'll get new visitors from day one; previous clients have seen up to a 10x increase in traffic since their relaunch! And it won't stop there – impactful landing pages, calls to action and engagement forms can convert your new visitors into recurring customers.
Boost your presence online with a website guaranteed to engage your customers, accelerate growth and drive your small business forward! With transparent pricing and no hidden costs, you'll know exactly what you're paying and we promise to beat any quote for equivalent services. Connect with us today and see for yourself!
If you are interested in a custom-built website, you can contact David on 07455017040 or email dnmcbride@live.co.uk.
Next Page »